The objective: to create an aerodynamic tailbox that adds speed (2-3 mph according to our real world beta testers ), has considerable utility, requires no additional support structure, amplifies sound less than the Choroplast or fiberglass examples, and has a high quality finish and level of materials.
Capacity: 2850 cu. In.
Materials: Slick urethane coated 420 dennier polyester pack cloth on top and perimeter, ABS and Polycarbonate internal stiffeners, 1000 dennier polyester bottom & front panel (at seat end), mesh mounting pocket with Nexus buckle.
Zippers: Double pull waterproof YKK zippers covered with silent rubber tabs to eliminate clatter.
Safety: Retroflective reflective tape on perimeter top section of trunk. Loop for flashing LED light at top rear.
Quick convenience: 4″ x 14″ transverse mesh pocket at bottom of front panel. Smartphone pouch of left, forward edge.
Off the bike capability: Shoulder strap that fastens to 2 "D" rings, and an easy on the hands rubber grab handle.
Weight: 3 pounds
What's Inside?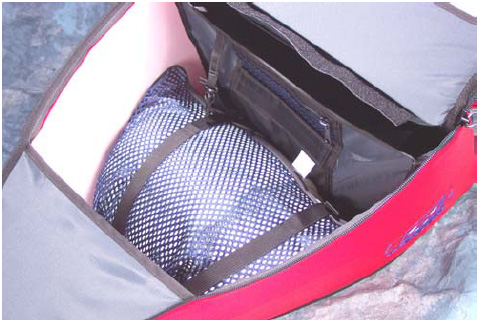 Fully lined in grey nylon.
Bladder Pocket at front end of bag with color keyed exit slot at bottom for hose.
Full width external mesh pocket at the front of the pack.
External SuperMesh smartphone pocket at the left forward edge.
14 x 12 x 4″ compartment that Velcro closes at the top if you wish. Laptop computer compatable.
Built in wallet with additional YKK zippered mesh pocket, and a snap fitting for your keys.
Blue mesh cargo floor net with 2 Nexus buckled straps to anchor your gear.
Bike fits: Most types of recumbent mesh back seats. Euro seat type adapters available for hard shell, EuroMesh, and Hoagie designs.
Colors: Black, Yellow. Custom colors on request.