Comfort. Most people are first drawn to the recumbent due to "hanging bike syndrome", whereby the upright bike has been hanging vertically on the garage wall because of unpleasant physical effects from past use. The recumbent cycle will allow you to ride a bike pain free in the following ways:

No sore butt, even the day after.
No numb hands, wrist pressure, or carpal tunnel abuse.
No neck pain.
No back pain. Frequently, customers who have had back surgery find the recumbent comfortable.
No prostate pressure. Many men are off the bike due to this more common than you might think situation. See impotence article in Aug 1997 Bicycling. Women have other issues in this area as well.

Fun. When you're not focusing on repositioning yourself to get more comfortable, you can enjoy the ride!
Safety.

You can easily see traffic situations in plenty of time, and you can put your feet on the ground for an emergency stop without dismounting from the bike.
Your head is safer too, as flying over the handlebars is not part of recumbent cycling.

Speed. Depending on the format you choose, a recumbent can be faster than an upright. This especially becomes apparent on a downhill or into a head wind.


---
They come in such a variety of formats, which type will be me?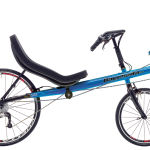 SWB: Short wheelbase. If you find it easier to identify with a recumbent that has a dimension in common with your upright, the SWB is it! Typically 40-49 inches in wheelbase, the SWB bikes are easy to maneuver, generally fast, and have a level or high crank position that helps in hill climbing by most accounts. The proper front end geometry delivers solid stability at speed. Examples: AZUB Mini, Six, Max, Origami. Rans Rifle, Rocket. Bacchetta Giro, Corsa, Carbon Aero, Carbon Basso, Pelso. HP StreetMachine, SpeedMachine.
Medium, or "Compact": Typically a 52-60 inch wheelbase bike.
LWB: This stands for long wheelbase. Typically a 63-70 inch wheelbase bike, the long wheelbase is good for open country touring. Generally these bikes have an easy to use low crank position, provide a comfortable ride, and are aerodynamic in the above seat steer (ASS) format. Examples: Rans Phoenix, Stratus LE, Stratus XP & Bacchetta Bella. For the high racer crank SWB position in a lower seat position: Rans X-Stream 700.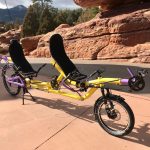 Tandem: 2 seats to go! Rans Seavo & Screamer, AZUB Twin are considered SWB format.
Seat Styles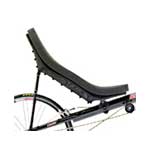 Foam pad base and back. Velokraft Carbon on Bacchetta. AZUB fiberglass & carbon, Bacchetta EuroMesh, Rans Hoagie.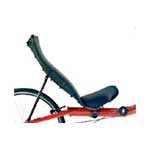 Mesh backrest with lumbar curve, foam pad base. A breathable back with a 2″ padded base.  Rans, Bacchetta Re-Curve.
Handlebar Position
ASS. Above seat steering is usually thought of in terms of what you see on a long wheelbase bike like a Rans Phoenix, Stratus or Xstream. They are aerodynamic in most cases, and give you a familiar place to grip. Mounting your computer, mirror, and bell is easy. The Rans Energy Bar are found on the Phoenix and Xstream series, Bacchetta a tilt adjustable T-Bar. Easy to mount a fairing on.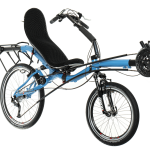 ASS, Preying Mantis. Preying Mantis has a "T" shaped handlebar that is comfortable and convenient for mirror, computer and other accessories. Your hands are in a "no reach" forearms distance from the body along with a low enough position to be as relaxed as any steering system available with tilt adjustment to fine tune the fit, and enter and exit the bike easily. Examples: Rans B26 & 36, Screamer, and AZUB bikes.
ASS, Open Cockpit. Otherwise known as OC. It has become very familiar over the years. This has a more "open feel", with a reach to the bars of about 3″ over the Preying Mantis. Hand position is vertical rather than horizontal, with a more open arm position. Available in fixed and adjustable/tilt stems. Examples: Bacchetta, AZUB bikes, Rans SWB's, Seavo & Screamer tandem.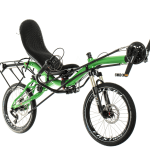 USS. Below seat steer. This adopts an arms at your side approach. It is generally a relaxed position. There is more wind resistance due to more frontal area on some. Indirect w/ tie rod linkage is always best, direct steer examples are less stable at speed. Examples: AZUB, HP.