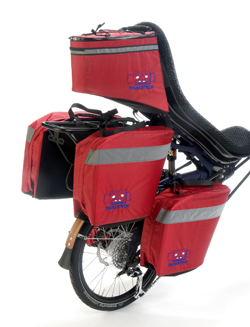 With the warm reception to our ANGLETECH AEROTRUNK™, we considered the finishing off of the gear carrying challenge of touring without adding drag.
Rolling our minds back to the forgotten, but still significant ZZipper Tailwind Panniers from 1982. These panniers, wind tunnel designed and proven, made your bike up to 7% faster through the wind than a bike without panniers. ANGLETECH, with the blessing of Glen Brown and Karl Abbe reintroduced these very modern and ultimate panniers as the ANGLETECH TECHWIND™ system.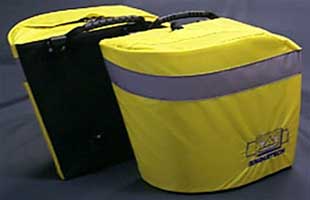 The basic philosophy of the system is: An aerodynamic shape that reduces the drag of your bike by 7%. ANGLETECH TECHWIND'S™ maintain their shape whether full or empty, always delivering the speed and good looks. The rear of the ANGLETECH TECHWIND'S™ are square profile to catch those tailwinds and blow you down the road. The perimeter stiffeners maintain rigidity and a finite shape. Fitted, color keyed stuff sacks (6 per pair) take place of exterior pockets to organize the interior of your ANGLETECH TECHWIND'S™. Clothing can be compressed into rock hard cylinders so you efficiently use all your interior space without carrying residual air. Press to seal bags that hold 2 stuff sacks each provide the most waterproof system available for items that absolutely must not get wet.
ANGLETECH TECHWIND™ panniers have a 2″ wide retroflective band on the perimeter of every bag. Capacity: 1436 cu. in. small, 1783 cu. in large per pair.
Materials: Slick urethane coated 420 dennier polyester packcloth on top and perimeter, ¼" corrugated polycarbonate and .06 HDPE internal stiffeners, 1000 dennier polyester bottom and bike facing panels.
Zippers: Double pull YKK zippers covered with silent rubber tabs to eliminate clatter.
Safety: 2″ Retroflective reflective tape on perimeter panniers. Loop for flashing LED light at rear.
Quick convenience: Highest quality Ortlieb or Arkel mounting systems with capability to fit aluminum rod rack designs as well as larger diameter tubular rack systems, standard. Lower mounts adjust at a broad range of angles to address any rack stem without modification. Off the bike capability: Snaps to fasten left and right sides together and a shoulder strap that fastens to 2 "D" rings. Physical dimensions: Large: 15″ long at top, tapering to 12″ long at bottom.  12″ high, 5″ wide. Small: 12″ long at top, 12″ long at bottom, 12″ high, and 5″ wide. Works on all under seat rack systems for recumbents including perfect fit on the Terracycle Easy Reacher system. Fits all rear rack systems as well as front rack systems (small  only ) on recumbents or wedgies. Weight: 448 grams, pair, small. 526 grams, pair, large.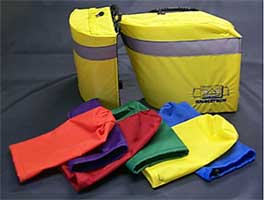 What's Inside? Fitted color keyed stuff sacks to separate your gear.
Bike fits: All types of underseat, front, and rear mount racks.
Colors: Black or Yellow.
Red, Lime, and other custom colors on request.