Montague is Full-Size Folding Bikes.
All Montague folding bikes are designed to ride as well as, if not better than, comparable non-folding bikes. During the design process, we focus on perfecting ride quality, handling, and comfort. You shouldn't have to sacrifice any of these crucial dynamics even if the folding bike is convenient enough to fit in the trunk.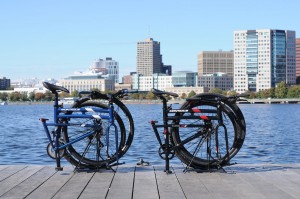 Each one of their folding bikes goes from full size to completely folded in under 20 seconds. Simply pop the front wheel off and open the frame quick release to fold the bike. No tools, no complicated instructions. This is about folding your bike in a flash to catch the bus or train, or take that back country adventure trip. Pavement-Multi Terrain and Mountain series' cover it all.
Convenience and practicality converge with Montague folding bikes. No one can argue the practicality of a bike. And, after just a few uses, no one can argue the convenience of Montague folding bikes.
Angletech / CycleDifferent goes back to 1987 with Montague folding bikes. We are the ultimate destination to outfit your cycle.