A first class pedal and shoe solution will help you reach "pedaling nirvana."
Riding a recumbent bike means horizontal elevation of your leg to deliver power to the pedal. Especially on short wheelbase designs this means your legs are level or above the level of your hips. You therefore are placing subliminal pressure on the pedals to maintain contact and not have a foot drop situation. While you can enjoy your bike, this foot pressure translates into pressure at the knees and hips and a "strokey" pedal action.
Foot Placement
Foot placement on a recumbent is different on a recumbent than on a "wedgie." Traditionally you are to place the ball of the foot over the pedal shaft. On a recumbent, you place the ball of your foot just beyond the pedal shaft. Toe clips are not valid on a recumbent due to the toes to the sky foot position and improper foot placement.
Enter the Clipless Pedal
A clipless pedal means you have a cleat mounted to your shoes that interfaces in a ski binding like fashion with your pedal. Once you engage the pedal, you are no longer applying pressure to keep your foot anchored. You then work on a circular type pedal stroke, pulling back across the bottom of your stroke with one leg as the other is pressing forward over the top of the stroke, imagining circles in your mind. This makes a dramatic difference in climbing ability and speed. After experiencing the change, clients tell me they wish they had done this years ago. The adjustable cleat clicks in your shoe sole to the proper foot location on the pedal. Mount your cleats all the way to the rear of the shoe.
There are a variety of clipless pedals on the market. Most are called SPD or are SPD clones.
Speedplay Frog
Conceived with the goal of bringing mountain bike pedal performance on par with that of road pedals, the Frog is the most versatile pedal you can buy.
Saves weight because the Frog has a single retention mechanism in the cleat instead of two redundant mechanisms located in the pedal like most off-road systems.
Minimalist design does away with confusing adjustments, because engagement security doesn't depend on spring tension.
Quickly and easily sheds mud, because debris is pushed out when the cleat engages with the pedal.
Tough resin composite body is highly resistant to impact damage.
Lightning-fast release puts an end to falls caused by pedals that won't disengage.
Phenomenal light weight:

Frog Chrome-Moly pedals per pair – 255g
Frog Stainless pedals per pair – 250g
Frog Titanium pedals per pair -206g
G3 Frog cleats per pair – 50g

Knee-friendly, non-centering free float.
Stainless and titanium spindles won't rust.
Precision needle and cartridge bearings.
Built-in grease port for easy bearing lubrication.
Speedplay Syzr
The Syzr has great adaptive capabilities, with adjustable float, adjustable stack height, and different spindle lengths. We can adjust to perfectly fit different legs lengths, hip width and foot pronation.
Shimano SPD pedals we favor are the PD A600 and PD A520 series:
286 grams per pair for the PD A600model.
Adjustable spring tension for cleat engagement.
4 degrees of float. When you pedal your knee guides your foot to float left and right rotationally through the stroke. Without "float", your knee joint has to compensate causing wear on your knee.
The deal here is the perimeter platform design, providing contact with your shoe, spreading the load of your foot over a large area well beyond the actual cleat size, reducing foot pressure and hot foot issues.
The pedal shape positions the engagement side facing you when you are riding in the recumbent position, so is especially easy to find your engagement position.
Dual direction exit so you can exit any way you want.
Fits our recommended Pearl Izumi X-ALP Journey's & other SPD type shoes.
For dual side format, PD A530
Non clip in flat profile ribbed surface on one side, cleat in function on other side with dual exit & 4 degree float features.
Clipless sounds good, but what is the next best solution?
For starting out in street shoes, and adding some basics like relative foot retention and placement:
Quality Platform Pedals
Most platform pedals coming on factory spec bikes are throw away quality. So, if clipless is not on your future list, get yourself some of our Redline Lo-Pro Magnesium, SpeedPlay Drillium, or Soma Oxford light weight, long lasting platform pedals. Lots of grip, and a large platform interface.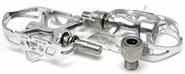 MKS has made first-rate pedals in Japan for 25 plus years. The MKS EZ pedal is really cool. All aluminum construction, stainless steel shafts, and quick release dismount fittings that work like an air chuck, offered in standard format cage and the SPD like Cube model, making packing and transportation quicker and easier.
Quality Bike Shoes
Investing in a quality pair of shoes makes every cycling day a pleasure. Bike shoes are different than running shoes in that the sole is a stiff design to better deliver power to the road and dissipate pedal pressure.
The Italians seem to have always had a cultural edge on comfortable shoes, and bike shoes are no exception. We suggest SIDI shoes from Italy.
The SIDI Dominator Fit series offers:
Standard, narrow, wide (Mega), and women's in whole and ½ sizes. More choice than anyone.
SIDI has the stiffest sole on the market.
Plastic molded heel cup for best support.
2 Velcro straps with integrated nylon grippers, plus exclusive Ultra SL top buckle for click-by-click fine-tuning of fit.
Padded tongue with fit "relievers.
Recessed cleat mounting area for cleat fit flush with the sole
Casual
For those who want the clipless benefits (stiff soles, SPD, Crank Bros, Speedplay compatible) in a more casual format we offer Pearl Izumi X-Alp Journey shoes. Wide toe area means stability when stepping off your cycle, and a slight flex in the arch means more comfortable walking. Available in men's and women's specific sizing.
Adaptation


KNEESAVERS are stainless steel or titanium pedal extensions that move each pedal away from your crank arm 20, 25, or 30mm and work with any pedal system.  Titanium versions available for 50% weight reduction.  Developed by Randy Ice P.T., C.C.S.
KNEESAVERS help eliminate knee pain for those cyclists with a toe out condition as well as improve biomechanics in those cyclists with wider hips (women generally), large feet (men generally), or bowlegged / knock kneed leg structure.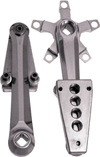 Crank Arm Shorteners
When your left and right legs are not of equal length, there are solutions as well. 2 types, 4 pedal holes in one aluminum block that threads into a standard crank arm or infinite slide adjustable types. We also offer differing length crank arms, and a DaVinci crankarm with variable pedal mounting inserts.
For further counsel on your best personal application of these technologies, call Angletech / CycleDifferent at 719-687-7475.